The best way to grow fresh vegetables and herbs - Windowsill gardening
Having a garden in the backyard seems to be a luxury. Also, space constraints are the biggest problem for a rejoicing garden. Don't worry, If you don't have outside space. There's a wide variety of herbs and vegetables that flourish on your windowsill.
The best conditions for the plants to thrive are: 
Choice of windowsill: plants ought to get at least 4-5 hours of daylight. Therefore, select a windowsill that is appropriate.

Use potting mix and fertilizer, instead of using garden-mix

Make sure you water them when needed, no more - no less

Select a good planter with drainage holes and keep a plate under the planter to catch any water that makes it through
Vegetable and herb plants for windowsill gardening ought to be those that don't need a lot of dampness and can fill in conceal. Suitable ones are: 
Lettuce

Chilies

Cherry tomato

Radish

Carrot

Cucumbers

Peas

Ginger  

Spinach

Onion

Pepper.
Cherry tomatoes
If you have a sunny climate, it is easy to grow tomatoes. Given the space constraint, cherry tomato is the best choice as they grow in smaller pots.
Peas
Peas are a pleasing accumulation to any kitchen garden with their lovely blossoms, refreshing green pods, and fantasy ringlets. Being low-maintenance plants they lean toward the sunny spot. Peas are light feeders and they produce their own nitrogen in the soil, so they are an inexpensive crop to grow.
Avoid over-fertilizing your soil or the plants will grow more leaves but not flowers and pods. Eat as soon as you pluck for freshness and flavor.
Spinach
Spinach on a windowsill can be grown without any problem. Adequate daylight is enough for substantial growth. Growing spinach in pots doesn't require special care. Regular watering, the right soil, and fertilizing at regular intervals is all you need for an extraordinary harvest.
Chilies
Chilies do not just add flavor to your dish, they can add zest to your life as well. Developing hot peppers on windowsills can be intriguing. You'll cherish your plants once they'll begin to blossom. Chilies grow well in the sunny climate. Peppers generally need two ingredients - sunlight and water.
Bitter Gourd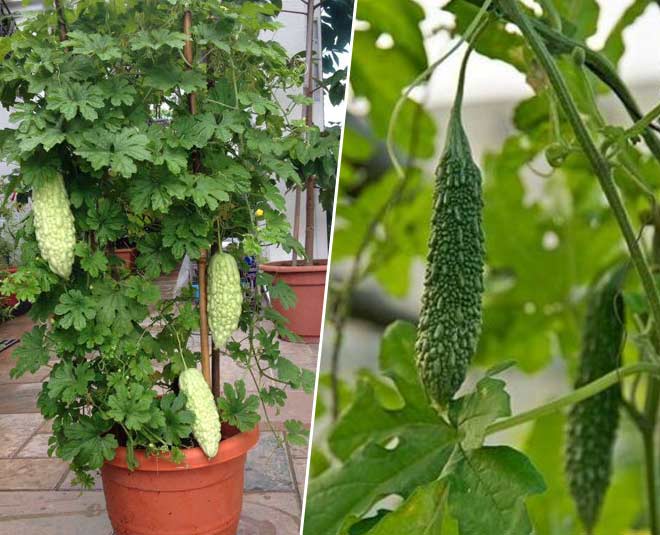 This perennial climber needs adequate support to grow. The plant produces yellow blossoms - both male and female - which are pollinated by insects. Bitter gourd grows in a wide variety of soils. However, favors penetrable, sandy soil. It grows best in hot and as well as humid weather.
Garlic
Plant the cloves in the dirt with their pointy side up. Keep the soil moist and in a couple of days, you can see a green shoot. A decent blend of peat, vermicompost, potting soil, and a tad of sand will give you the drainage, moisture retention, and nutrients that are essential for growing garlic.
Spring Onions
Spring onions are a delicious addition to the salad. Spring onions can be grown in water and in little spaces like a windowsill. Fertile soil, sufficient drainage, great compost, and a lot of light are required for their growth.
Lettuce
It is probably the easiest plant to grow on a windowsill. Developing lettuce in pots requires the right kind of planter and soil. Lettuce needs plenty of space for roots. It doesn't need too much light.