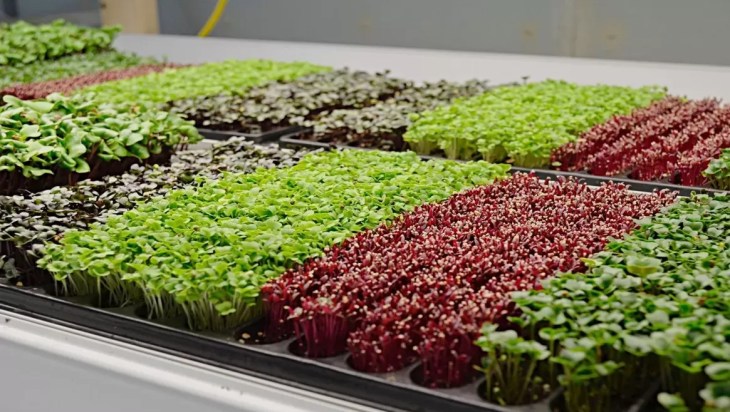 THIS FESTIVAL OF HARVEST - HARVEST YOUR OWN FOOD
Heyy!! Folks!!! How about celebrating this Pongal traditionally by harvesting your own food. Sounds interesting right!!! Growing our own food is never a rocket science but we couldn't because of several reasons like our busy lifestyles and not so well spaced rooms.here, introducing very easy, quick to grow and hassle free superfoods called microgreens.
 WHAT ARE MICROGREENS?
vegetable greens which are harvested with one set of true leaves or just after the cotyledons have developed are called MICROGREENS, they fall between sprouts and baby greens. They grow from 2.5cms to 7.5cms tall and can be harvested 7-21 days after germination. 
Click here to buy Microgreens Sprouta

MICROGREENS ARE THE PACKAGE OF NUTRIENTS 
microgreens are the rich sources of ascorbic acid (vitamin C), tocopherol (vitamin E), phylloquinone (vitamin K), Beta Carotene (vitamin A) and are having good traces of potassium, iron, zinc and various antioxidants and phenolic compoundsSome studies have found that microgreens are 5 times greater in nutritional status when compared to their matured parts
DECODING OUR DIY MICROGREEN KIT
All we need to grow microgreens is our SPECIAL DIY MICROGREEN KIT called SPROUTA. This sprouta microgreen kit enables you to grow your microgreens very easily as it is a soil less cultivation kit. This kit consists of 
A portable rectangular water reservoir

Perforated tray

A glass lid
HOW TO USE THIS DIY MICROGREEN KIT
Using this microgreen kit is very easy and requires no effort. All you need to do is just follow the given steps
Fill the water reservoir with water above the given mark

Cover the reservoir with perforated trays

Make sure the bottom of the tray is in contact with the water

Wash your microgreen seeds thoroughly

Spread them on the tray evenly

Cover them with the lid

Remember to change the water every day.
Now, keep this kit near the window or any dry place and also make sure that the seeds are moist. You will get germination with in 2 to 4 days and you can eat them as sprouts or you can wait and harvest them as microgreens
You will get methi seeds with your sprouta DIY microgreens kit
Thats not the end of the story!! If you want to grow microgreens on soil traditionally, then all you need are
Seeds of your choice

Plastic tray with drain holes

Lid to cover your tray

Water

Hand sprayer
Fill your plastic tray with soil and sprinkle some seeds and mist your seeds with a hand sprayer, and cover it with a lid . 
You can observe germination with in 2 to 3 days
Remove the lid and mist them with hand sprayer 
You can harvest them when u get one set of true leaves which will take 7 to 21 days
Microgreens are undoubtedly the better option for persons seeking health benefits and better nutrition
You can get good quality seed to grow your microgreens from us. We at Plan A Plant provide quality seeds which are free from soil borne pests and diseases to unleash maximum benefits. 
THE HEALTH BENEFITS OF MICROGREENS ARE:
REDUCES THE RISK OF ALZHEIMER'S DISEASE AND HEART DISEASES:
as microgreens are rich sources of antioxidants and fully packed with phenols they reduces the risk of alzhemers and they eliminate various toxins and bad fat from our body thus reducing the risk of heart diseases
REDUCES THE RISK OF DIABETES:
microgreens are known to increase the sugar uptake, thus reducing the risk of certain types of diabetes, for instance fenugreek enhances cellular sugar uptake by 25 to 44 percent
WEIGHT MANAGEMENT:
microgreens flushes out free radicals and toxins from our body and supplies all the essential nutrients thus aiding for weight management
VERSATILITY TO COMPLIMENT MANY CUISINES:
microgreens can be used in various cuisines, they can be taken as salads, used as pizza toppings and can be taken with burgers and sandwiches, they can be used to cook our desi foods like dal and raithas.
What are you waiting for? Grow your microgreens and share your progress with us...Let's inspire people towards sustainable living.